Howdy, folks!
It's Day 4 of the Back to Homeschool Blog Hop, and today's topic is Homeschool Classrooms. In case you are just tuning in, hop on over and enjoy Day 3 Planning (free Bible Reading Plan download!) and Day 2 Curriculum too!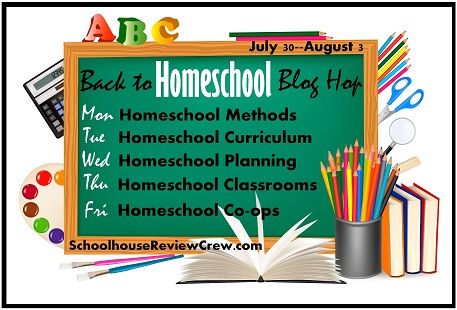 I couldn't resist the title for this post – it's classic homeschool cheese because, DUH, that's just Basic Homeschooling Philosophy Number 1 – meet the educational needs of your child in whatever way you best can. You have the whole world to work with, not just a desk and textbook, so go for it. After 12 years and counting, we have homeschooled in the car, in the yard, the library, at the dentist, the grocery store, under the covers, and in the bathroom! The list of locations could go on forever. The whole key to homeschooling is thinking outside of the 8AM-3PM-Classroom-At-Home box. A classroom is really just a place to keep your school supplies.
What my family likes is a comfortable, functional spot to do math, crafts, experiments, research, review ideas, test things out, write papers, store materials, and so on.
Our homeschool area has migrated over the years. For a while we transformed the largest bedroom in the house into our schoolroom. We had bookshelves, a full wall white board, tables and chairs. We tried using it in a regular manner, but guess where we most often ended up instead? In the living room… on the couch…
These days our school area is here:
…which happens to be the north end of the living room, right next to the couch. The mini-trampoline functions as a foot rest, a cat bed, and a tool for waking up or getting rid of excess energy. We have an industrial strength hole puncher on the desk and a series of power strips strategically located around the room for recharging our laptops and tablets.
Keeping our office supplies organized and handy is one of the key elements these days. We used to use these drawers for the Workbox System. Now they house our office supplies.
Here's my self-inflicted home-improvement construction project for the year:
I added a shelf to the desk where I can keep my binders for current materials. Our storage library is actually spread between my bedroom and my downstairs work office. We also keep the continuous ink system printer in the office. Our lapstops can print to the printer from anywhere in the house.
The kids each have multiple backpacks – a different one for each day of co-op classes, complete with separate sets of pens, pencils, highlighters, etc. My kids store their work and texts for those classes in the designated backpack at all times. It REALLY helps with organization and keeping track of homework!
We use a wicker basket near the dining table for non-co-op work. Right now I'm collecting all our new materials there temporarily:
My organizationally challenged one keeps her non-co-op materials in an ottoman with a hinged lid. It keeps one of us from getting unhinged that way.
So there you have a glimpse of our homeschool home base! For a look at the classrooms of the rest of the Homeschool Crew, just click along through the list below! Happy Hopping!