WOW! It's day 5 of the Back to Homeschool Blog Hop! The week's last topic is Homeschool Co-Ops!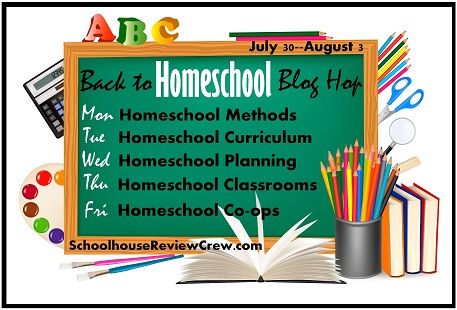 What do you get when you mix a bunch of homeschooling families with similarly aged kids? A co-op!
Co-ops can be great fun for the whole family and a worthwhile investment of your time and money. Just like the homeschoolers that they serve, co-op organizations come in a variety of shapes and sizes.
Over the years, my family has taken part in 3 different kinds of co-ops: traditional, parent-support, and tutorial.
Traditional Co-ops
I call the first one a traditional co-op. In a traditional co-op, parents plan one or two or more days a week to meet together with their families for a selection of agreed upon classes and activities. Everyone who becomes part of the co-op is obligated to pitch in in some way. The kids rotate from class to class throughout the day. The parents take turns teaching classes, leading devotions, organizing field trips, and wrangling the toddlers.
A traditional co-op is a great option for parents with elementary aged kids. It provides a support structure, encouragement, and motivation. It provides a like-minded group of families to socialize with. The deciding key, of course, are the types of classes and activities that the members have decided to offer. Traditional co-ops are appealing when the offerings compliment, expand, and supplement your faith, homeschooling philosophy, and the core curriculum you are using at home.
Parent-Support Co-ops
The second type of co-op is a parent-support co-op. This kind of co-op is primarily designed to support and encourage Mom. It may be organized by a small group who feel a calling to minister to other homeschooling parents, or by a couple of moms who just want to organize a night out with the girls. A parent-support co-op usually meets once a month in the evening when Dad can be home with the kids, which gives Mom a chance to gleefully abscond with other adults for a while. The meetings include activities that range from inspirational speakers, curriculum presentations, prayer and bible study, grown-up crafts, and so on.
When I was part of a local parent support co-op, the co-op also met every Friday afternoon at a local park for play dates – both for kids and Mom! It was a low-key, low-commitment activity where moms chatted to their hearts' content while the kids burned off extra energy. The park days were also great motivators for the kids to get their school work done on Friday mornings so they didn't miss all the fun that afternoon!
Tutorial Service Co-ops
The third kind of co-op is called a tutorial service. Tutorial co-ops usually start up when the kids in your homeschool sphere reach the high school years. Although today's curriculum market provides a plethora of quality options for teaching high school subjects like chemistry, algebra, and literature analysis, not all parents want to or have the time for such intensive subjects, especially with a number of younger siblings in tow. Plus, teenagers have an innate need to spread their wings and give their budding sense of independence a good try – which doesn't automatically translate into independent study skills, so you can't just throw the chemistry or algebra book at them.
Homeschool tutorial services can provide a safe and balanced place for teenagers to test their level of responsibility and accountability to someone other than Mom. If they blow it, no harm done, because the foundation of a good tutorial service is that the accountability and grading still lands in Mom and Dad's lap, not the tutor's. Mom and Dad ultimately determine a grade for their student according to their goals and student needs. A good tutorial service recruits and organizes other qualified parents to teach weekly tutorial lessons in a classroom setting, providing substantial reading and homework material for the days between classes. It is very much like a college class model and works wonders under Mom and Dad's supervision for building time management and study skills in teenagers.
I have been a writing tutor at a local high school co-op for 12 years now, and I naturally want to tell you how something like this gets organized and off the ground. However, that will definitely take another post, so stay tuned. In the meantime, you might enjoy my personal story about how I landed at a high school co-op as a writing tutor. It is an incredible story of God's provision and faithfulness to my family. You can read all about it at Savannah's Hammock Tracks blog.
Take some time to hop through the other wonderful blogs that are also sharing about homeschool co-ops today. There are a lot of great posts about the benefits of co-ops or the things you should consider and be aware of before jumping into one – especially in the elementary years.
Feel free to leave a comment or share your homeschool co-op experience, and thanks for stopping by!