In case you missed it, the Schoolhouse Review Crew is doing a back-to-school blog hop this week. Each day highlights a special topic pertaining to homeschooling.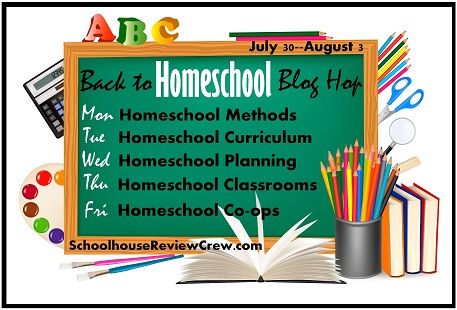 Monday's topic was homeschooling methods. I clicked through 60+ blogs to check the whole hopping thing out, and I came away with one impression: IMPRESSIVE! If you are new to homeschooling or just thinking about it, you will definitely want to bookmark this resource. It is a gold mine of information for newbies and skeptics alike – all in one place!
Tuesday's topic is homeschooling curriculum, which is not an easy topic to nail down! Today's homeschoolers are greatly blessed with a plethora of curriculum options. The hardest part is sorting through all the wonderful possibilities to choose the program that will work best for your student, you, and your situation. Because I actually hate shopping in general, my goal was always to find just the right product and stick with it as long as possible.
My kids are all in high school and beyond now, and I just have to get this out of my system: I miss the elementary years! We had so much fun and made such great memories! Curriculum was a core part of that.
After 12 years, here are our all-time favorite elementary curricula:
Math: We loved Making Math Meaningful through Level 6. From there, it took us a while to find another suitable program for high school math.
Language Arts: Five in a Row is the curriculum that I will NEVER sell or give away. I am saving every book for my grandchildren and great grandchildren and great-great grandchildren. FIAR set the relational tone of our homeschool, and it gave us a common language that is unique to our family. We still talk fondly about books like Blueberries for Sal, Night of the Moonjellies, and The Very Last First Time…
History: Story of the World was our favorite history text. Actually, SOTW was one of the few history options way back when we started. By the time other programs emerged, we had solidly bonded with Susan Wise Bauer's conversational style, not to mention Jim Weiss' wonderful story-telling voice on the audio cds, which we listened to in the car everywhere we went.
Science: We had the most fun with Apologia's Exploring Creation series. We have fond memories of jello cells and taxonomy flap books. You can go to my old Flickr page for more taxonomy flap book pictures.
Ah, those were the days!
Now, the high school years aren't harder – they're just different. We have continued with some brands like Apologia, but the way we do school nowadays has changed. Stop by in the days to come, and I'll tell you all about the curriculum we use now as the Crew blogs about planning, classrooms, and co-ops.
In the meantime, hop along and enjoy the rest of the homeschooling curriculum posts!